Communicate insights, collaborate seamlessly, and make sense of your data together. Use flexible building blocks, like charts, tables and text, to create any kind of document. All charts and tables are powered by metrics and are fast to add and edit.
No matter how you build your reports, they will always look great in the mobile app. No extra work required.
Everyone can create reports. Reports can be kept private or shared with the workspace.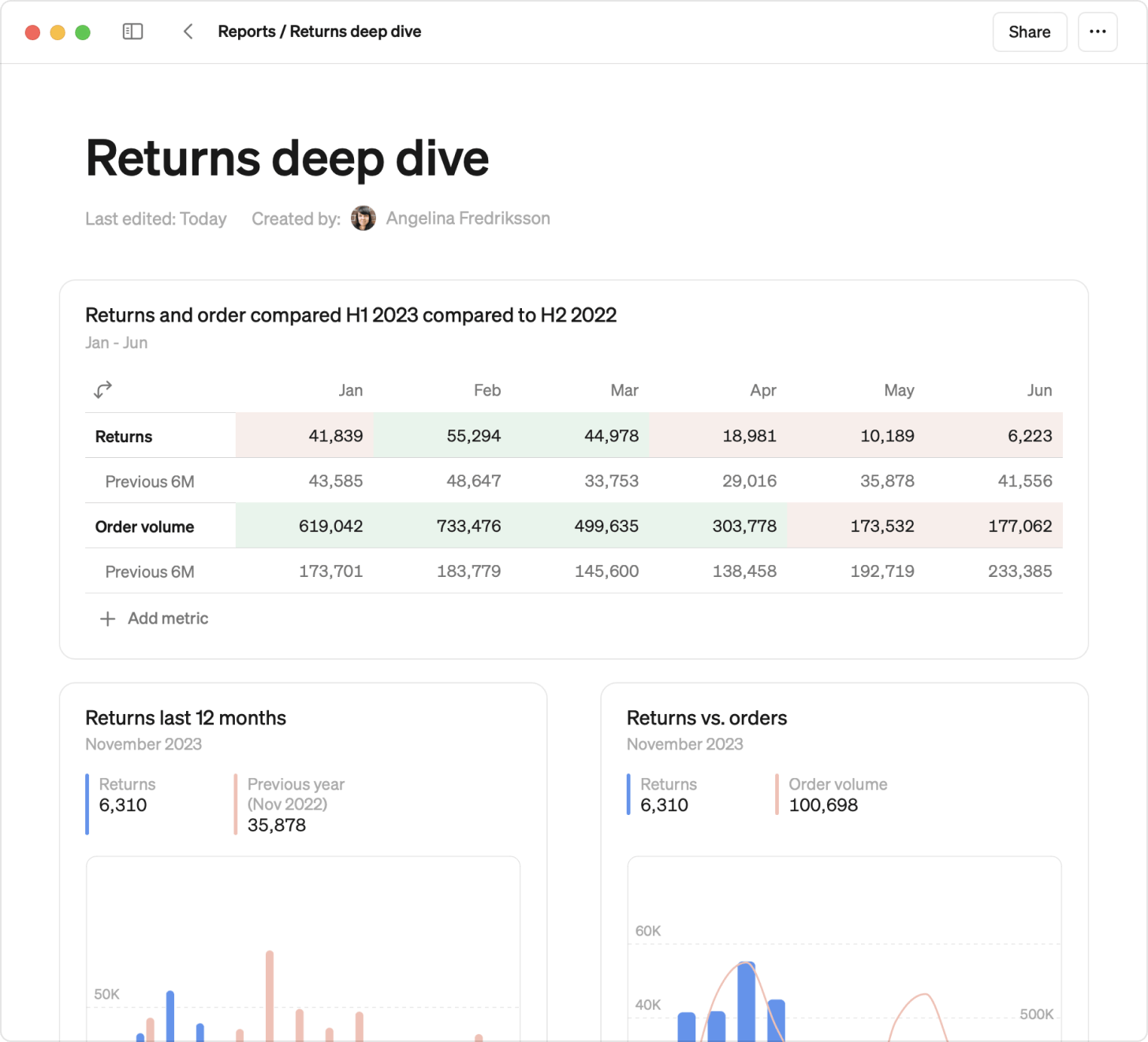 There are numerous ways to use reports. Here are a few example use cases to inspire you:
Key metric update: Deliver the latest updates on your key metrics to your stakeholders. Next period, simply duplicate the report and update the time period.
Deep dive analysis: Craft a well-structured analysis and walk readers through your findings. Visualizations are always easy to update.
Live tracker: The classic dashboard use case. Set time periods to rolling and add a set of charts to track important metrics vs. targets.
Ad-hoc analysis: During meetings, open up Steep and collaborate with others to find answers to spontaneous questions. Allow everyone to contribute to the same report.
Personal exploration: Investigate for yourself and save charts to a private report that you can iterate on before sharing with others.
Create new report
Go to the All reports page, and press Add report. Give your new report a title.
Charts
Add charts
All the ways to explore a metric can be saved as a chart in a report. You can add metric charts to your reports in two ways:
From a report
Hover over the report to find the + button
Click it and choose Chart
Decide on a metric view to add
Done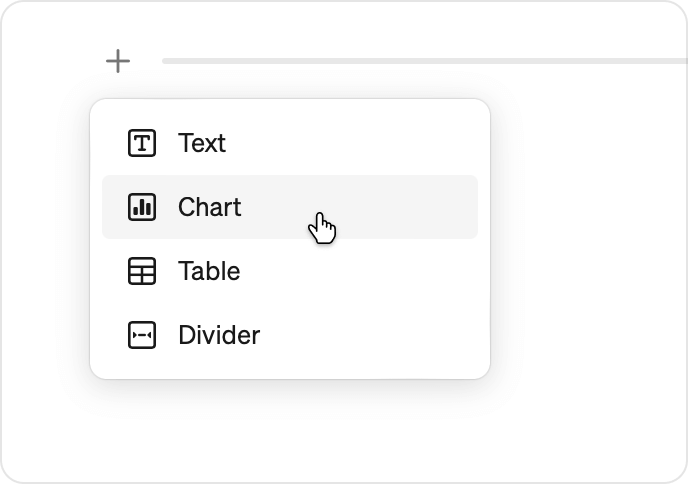 From a metric
Go to a metric
Select a preferred view of the metric
Click Save to report
Choose an exisiting report or create a new report
Done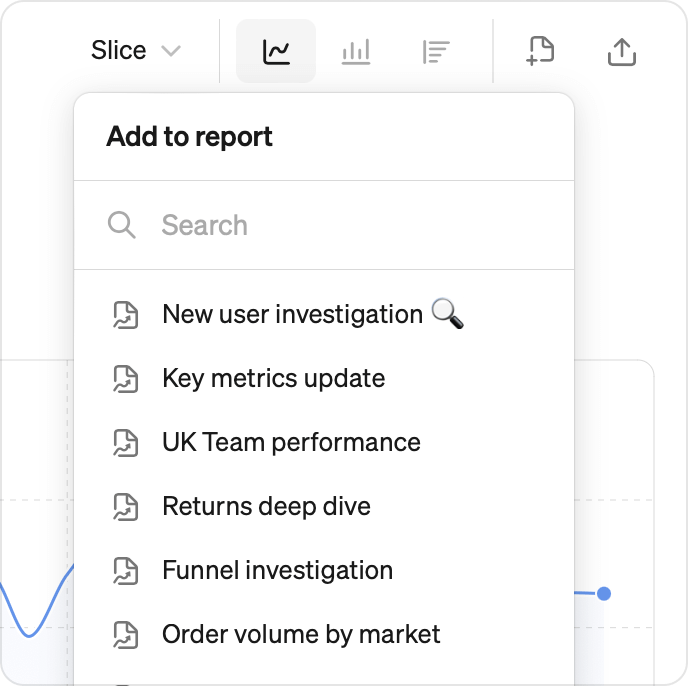 Edit chart
Hit the Edit-icon in the top right corner of a chart to edit. For example, you can change the time period, add a target or change the title. When you're done the changes will immediately be saved for everyone.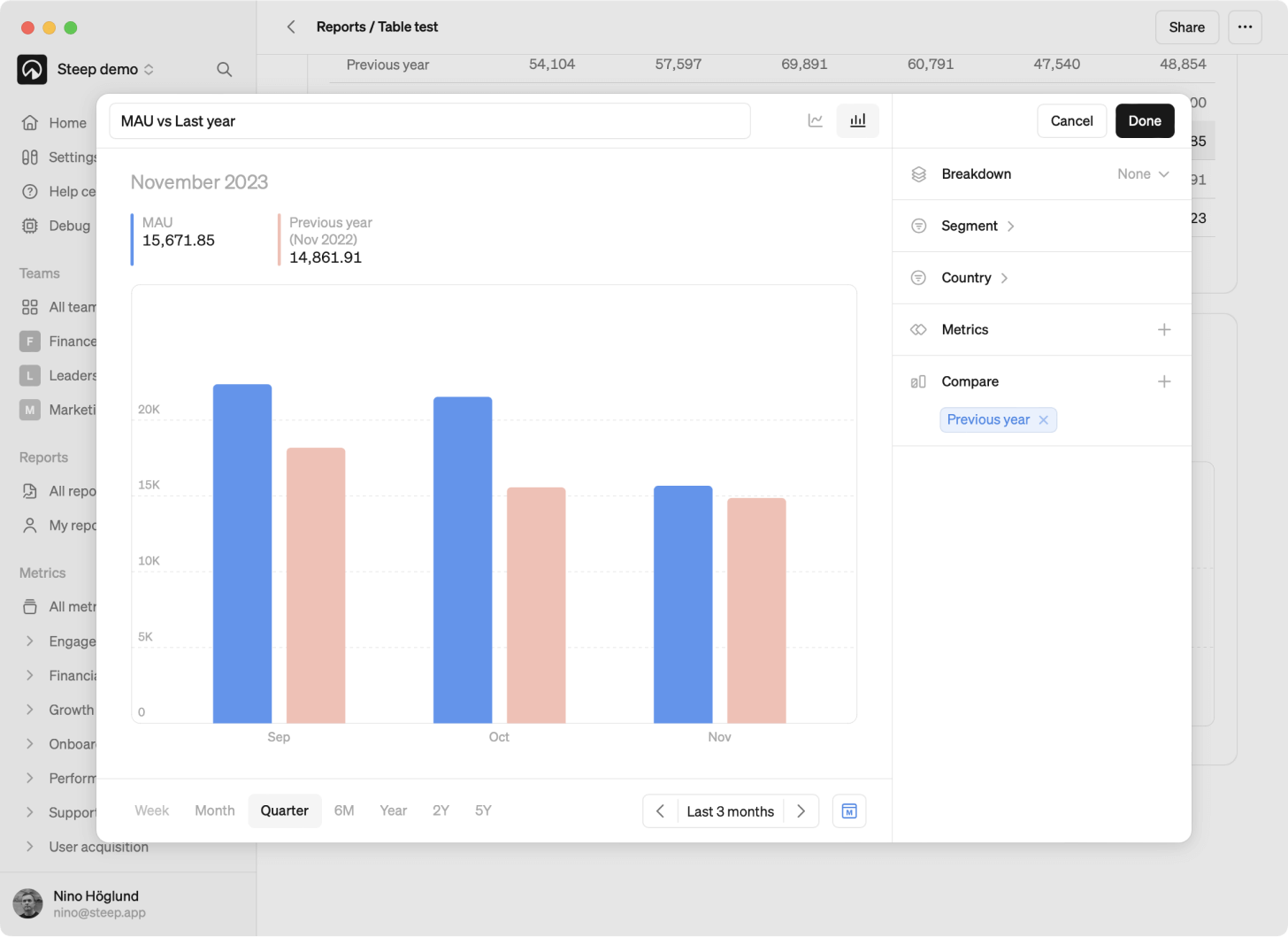 Duplicate chart
Duplicate a chart from the top right corner of a chart.
Go to metric
Navigate to the metrics explore page from the top right corner of a chart.
Delete chart
Delete a chart from the top right corner of a chart.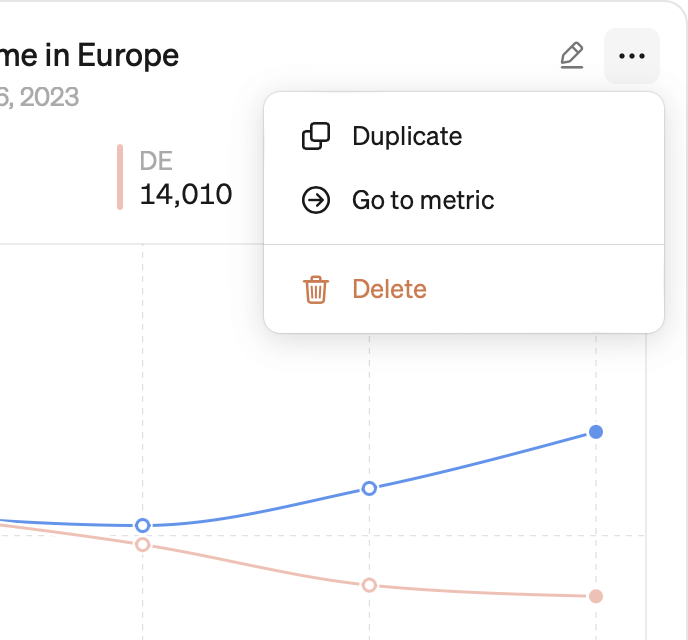 Chart examples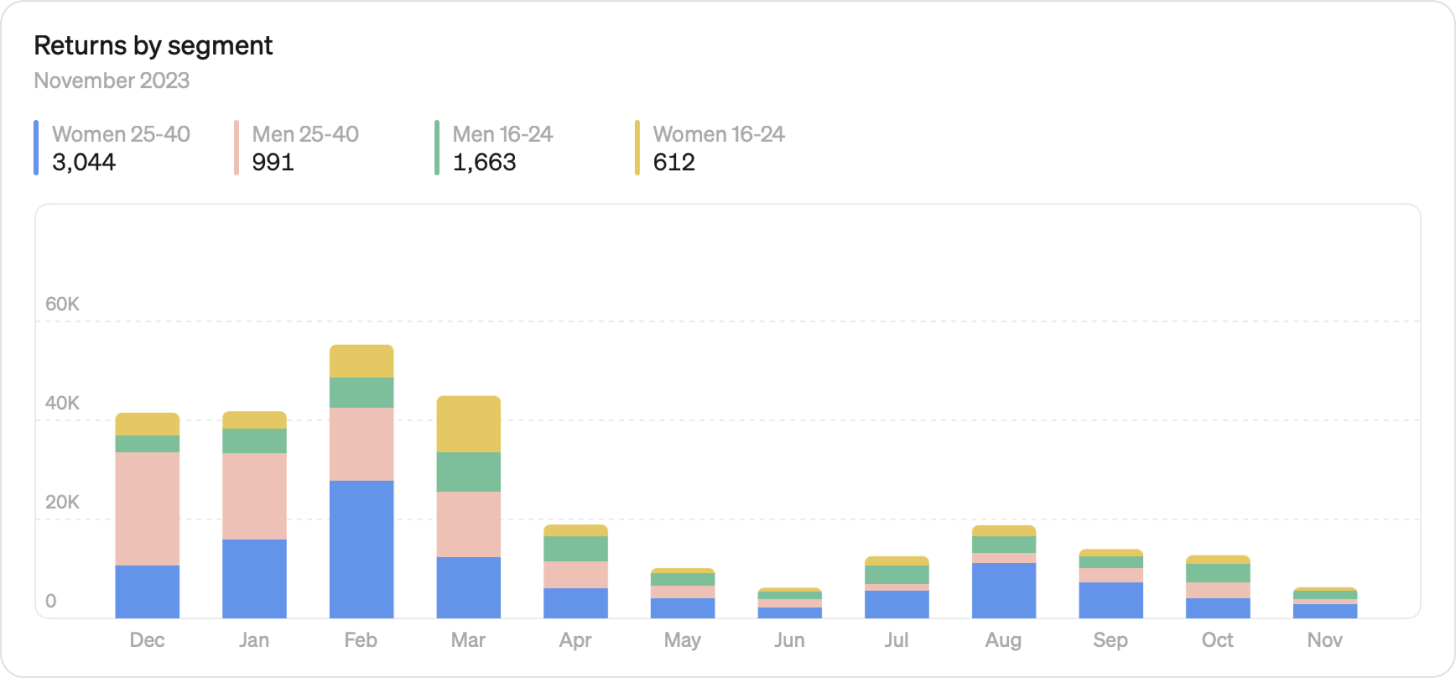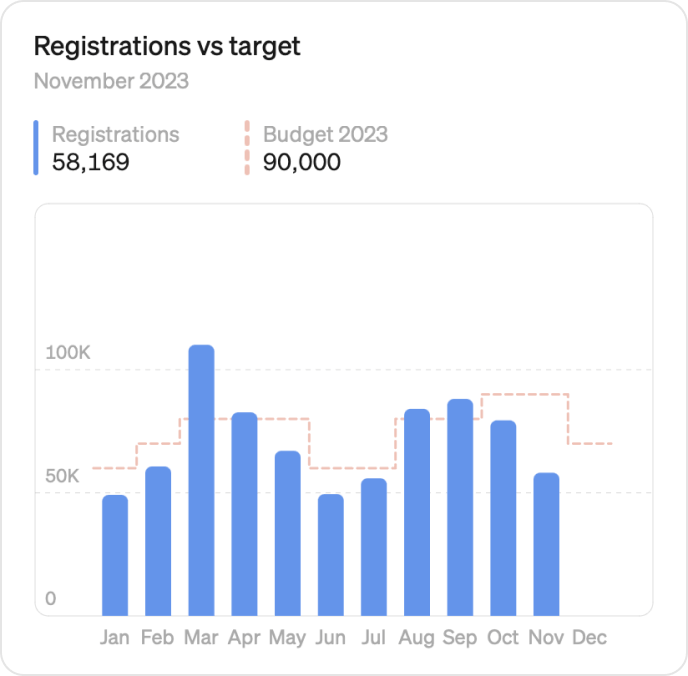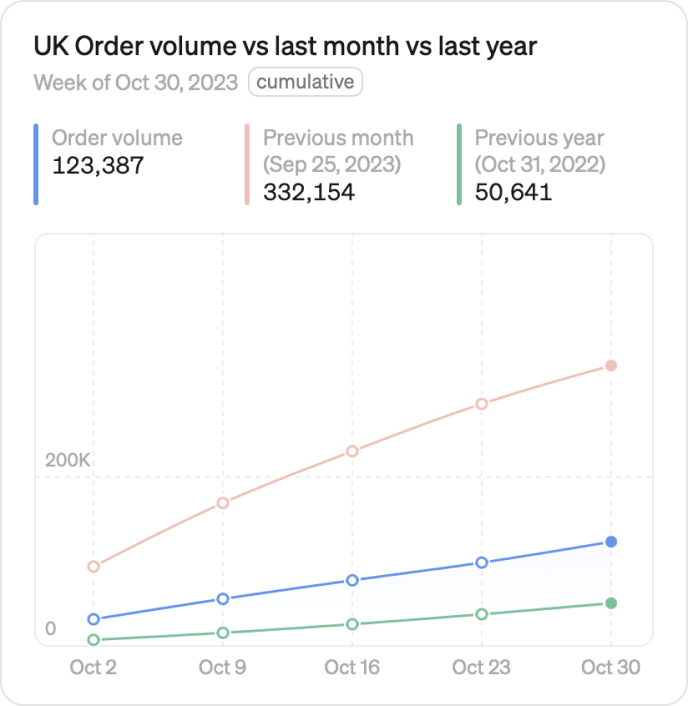 Tables
Tables are great for getting an overview of multiple metrics. Breaking down the data over time or a common dimension to quickly get a powerful view of the numbers.
Add tables
Hover over the report to find the + button
Click it and choose table
A blank table is added to your report
Directly on the table, add your metrics
Add a title
Done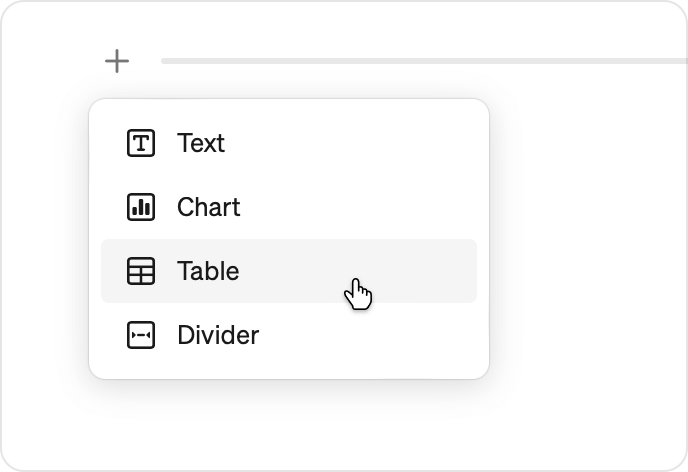 Adding and removing metrics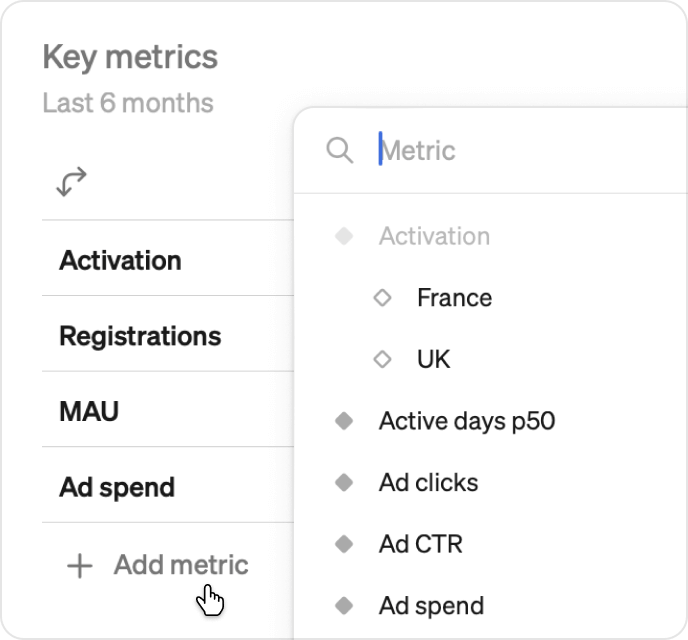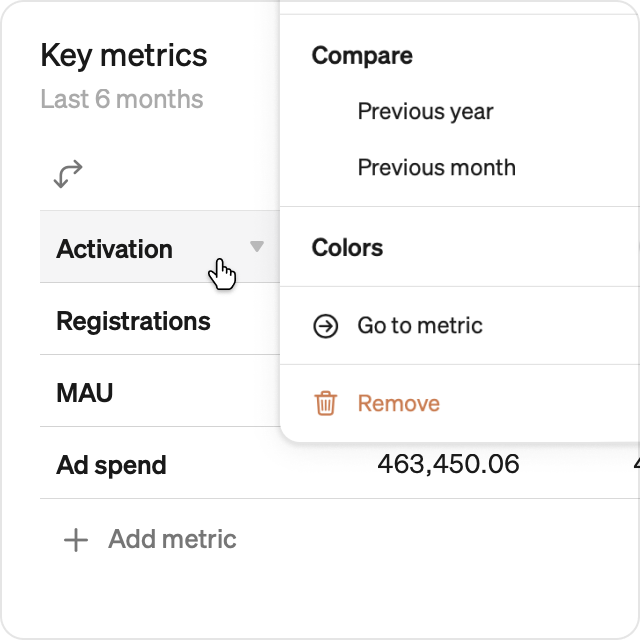 Click on the + Add metric button to add metrics. To delete metrics from the table click on the metric and click Remove.
Drag, drop and Transpose
Flip the column and rows to switch which axis your metrics sit on.
Drag and drop metrics and dimension breakdowns to reorder them.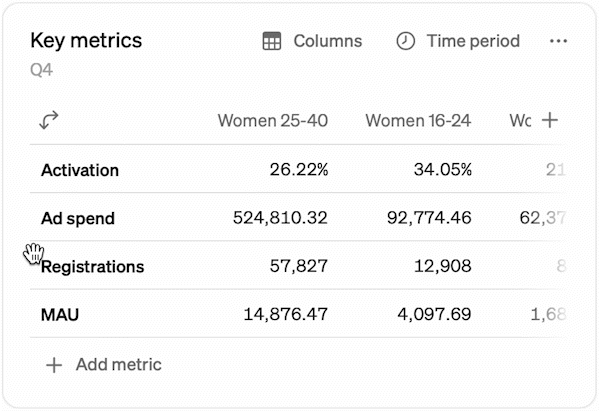 Breakdown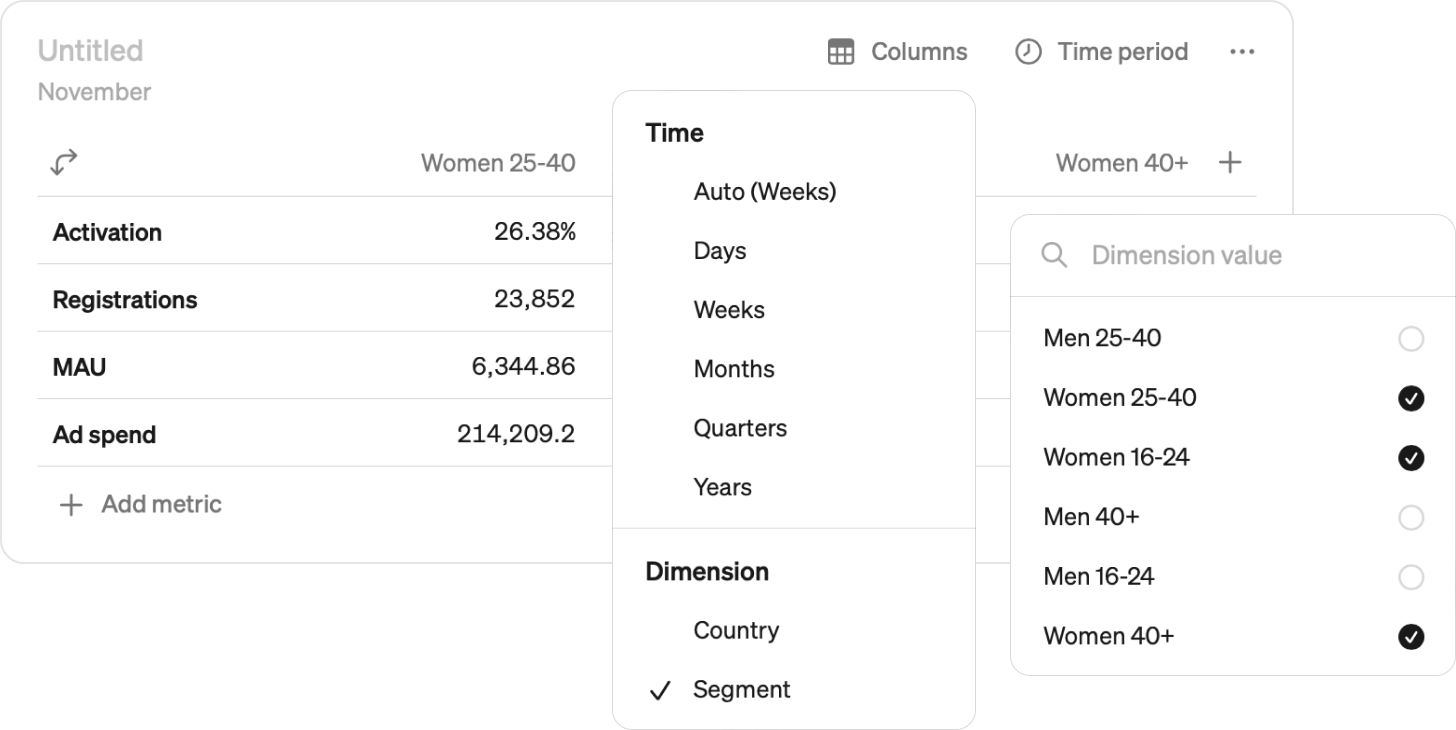 By default the metric will be shown over the last 6 month. You can customize your table by breaking down the data by another time grain or dimension you have for that metric.
You can filer which dimensions you choose to show in your table. By default we show 12 dimension values, but you can choose more or less.
Comparisons
Targets
If your metric has targets associated with them, you can add those directly to the table.
Compare over time
For each metric you can compared to previous year or the time period of your table. For example, if your table looks at the last month, you can compare your metric to month before.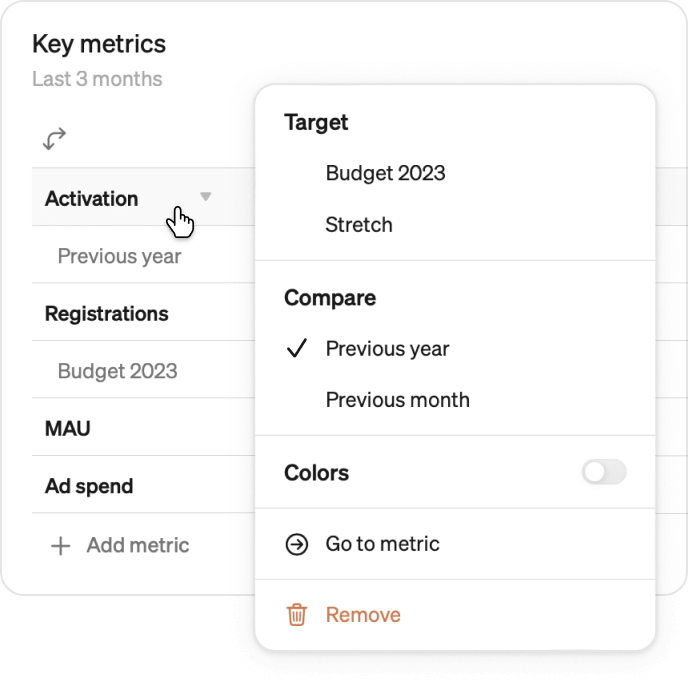 Colors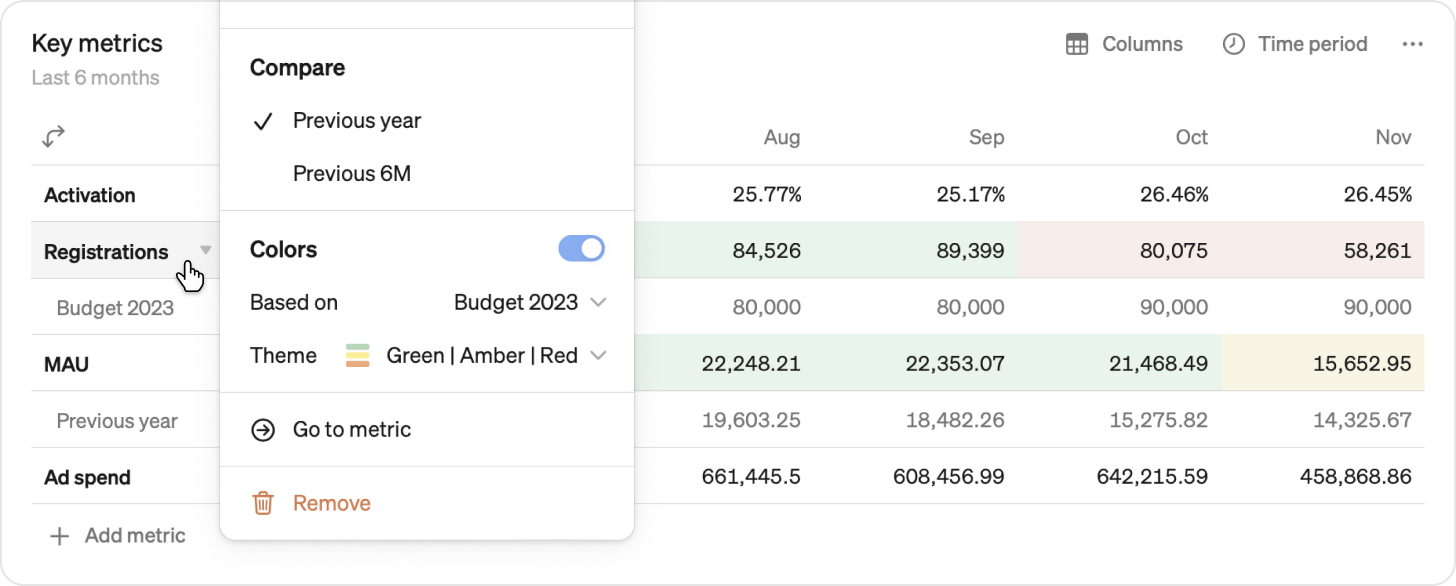 Color code your metrics based of off:
Based on actuals
Compared to target
Compared to previous year
Compared to previous period
Table options
Duplicate table
Duplicate a table from the top right corner of a chart.
Delete table
Delete a table from the top right corner of a table by clicking the ...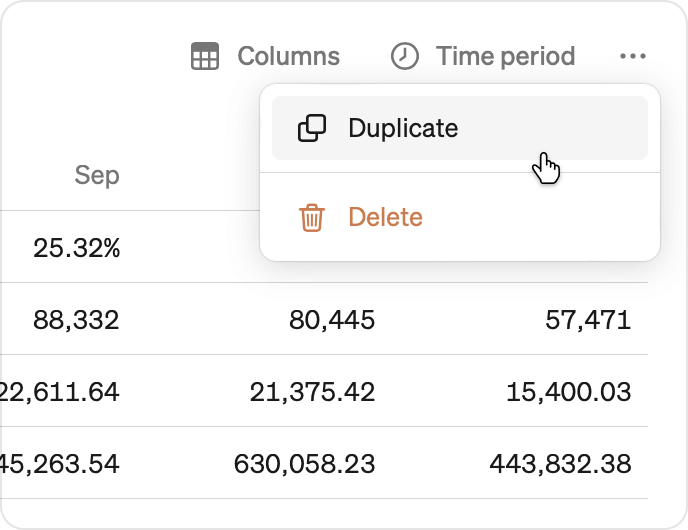 Table examples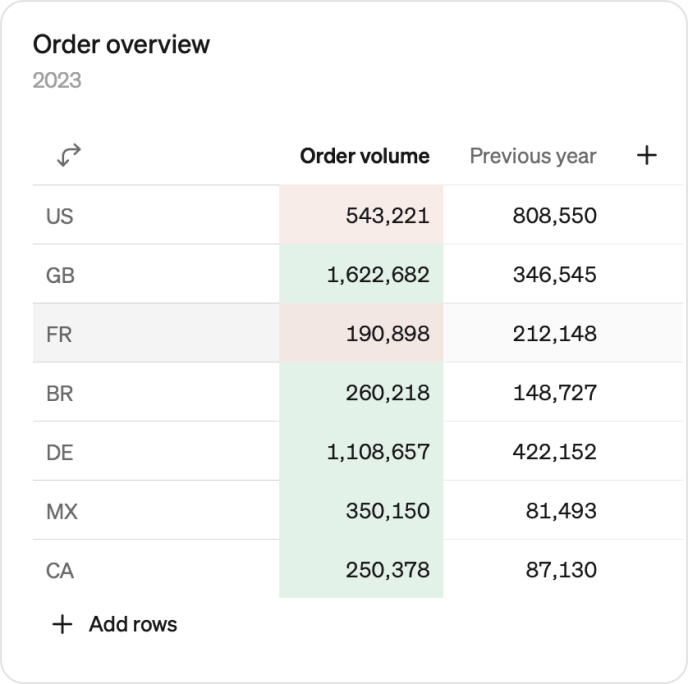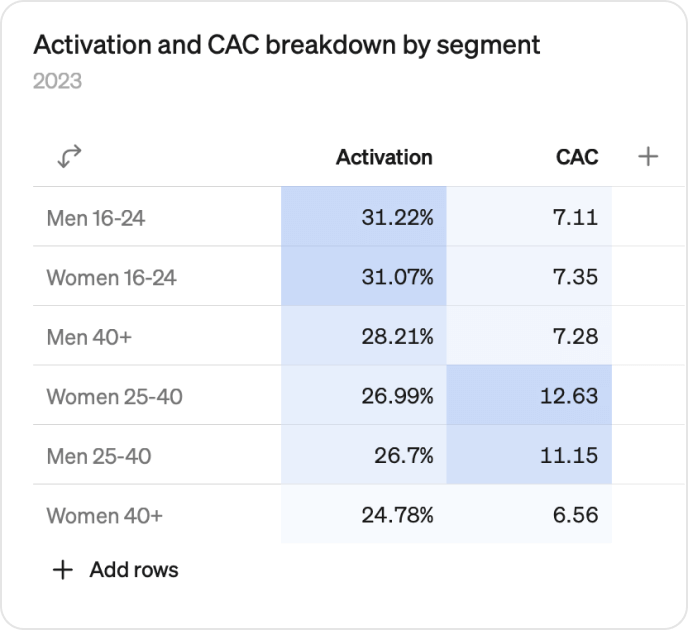 Fixed and rolling periods
Charts and tables can either be set to a fixed or a rolling time period. Rolling time periods tracks the current date and is useful for reports that tracks the development of metrics over time. Fixed time periods stay fixed on the chosen period (e.g. Q1 2023) and is useful for reporting purposes or for analyses that focus on a specific moment in time.
Fixed period
Choose a specific period using the time stepper, like May, to create a chart with a fixed time period.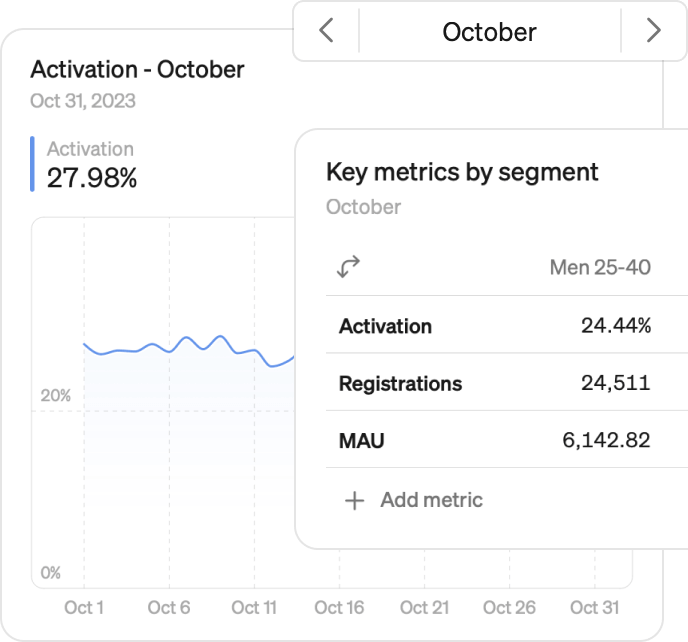 Rolling period
Select a current period like Last 30 days and your chart will display a rolling period that updates daily.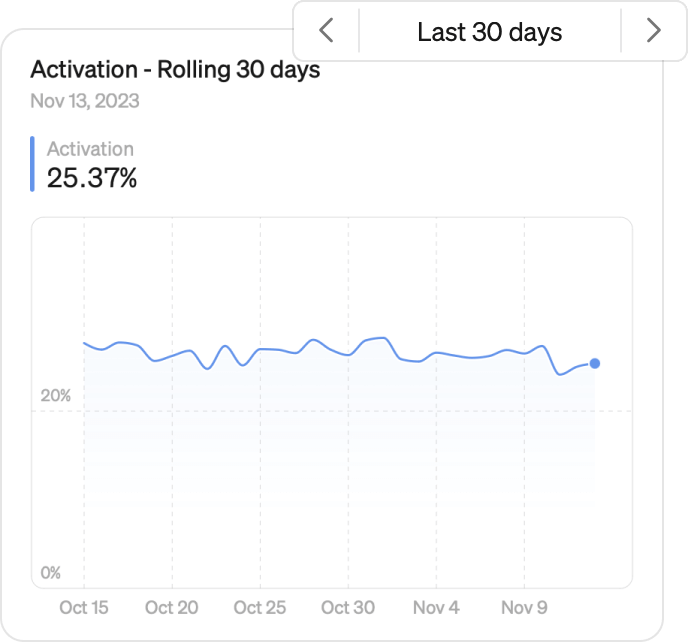 Text and style
Add text blocks to your report, by clicking on the + button and select Text.
To format your text, simply highlight the text and apply any of the following styles:
Large and small headings (H1/H2)
Bold
Italic
Bullets and numbered lists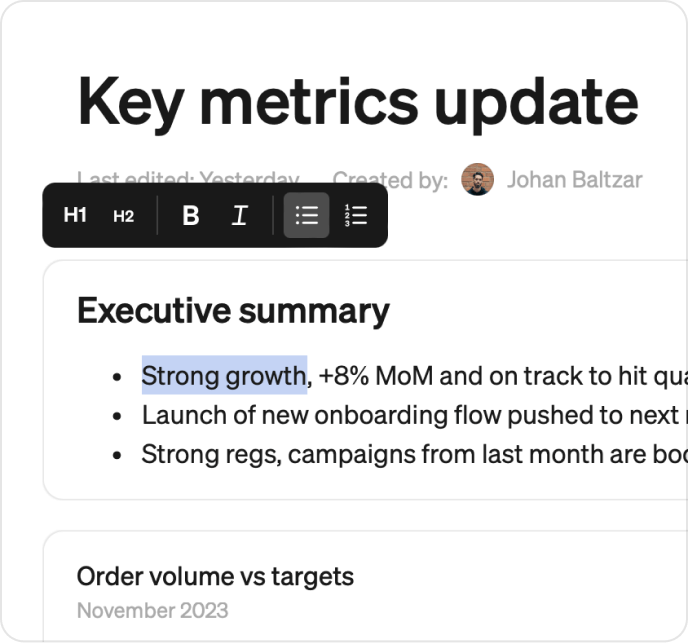 Divider
Insert a divider to visually separate sections in your report. Hit + and choose Divider to insert.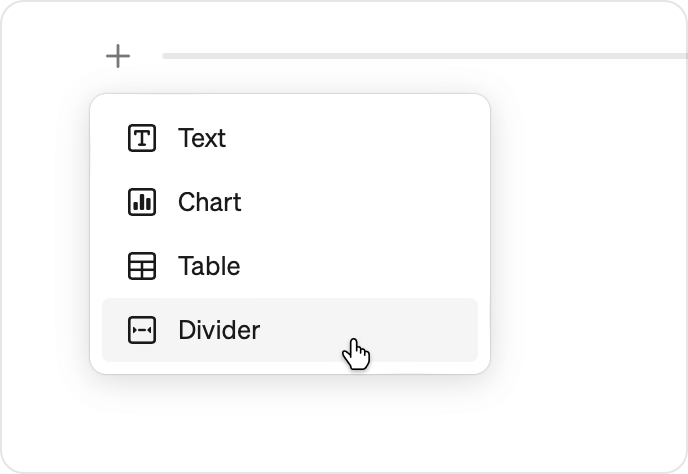 Drag and drop
Any content block in a Steep report can be dragged and dropped around the page.
Hover over any block of content and use the ⋮⋮ icon that appears as a handle to to drag it around.
Blue guides will appear and show you where it will go.
Release the block to drop it wherever you want it.
Dropping a block to the left or right of another block will create a two-column layout.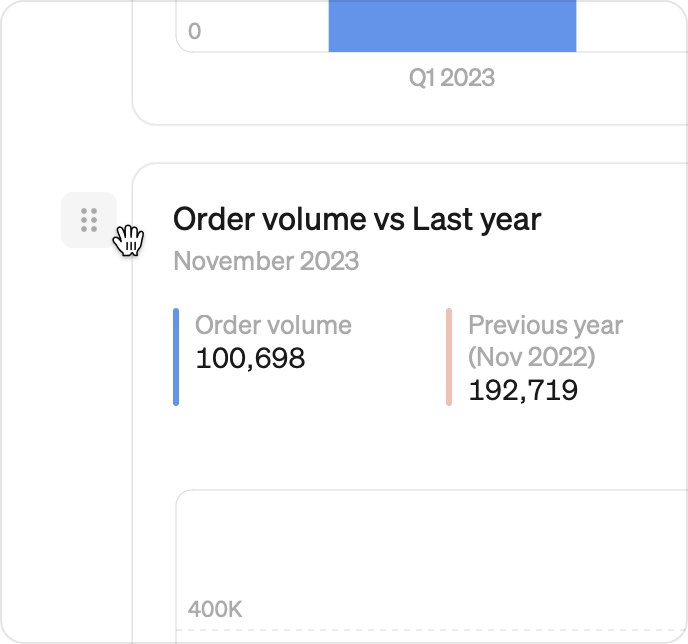 Sharing and permissions
Start working on your report independently and hit Share whenever you are ready. You can give view or edit access to:
Individuals
Selected teams
Entire workspace
Admin can always change reports permissions.
Copy link
Open the share menu and copy the link to the report.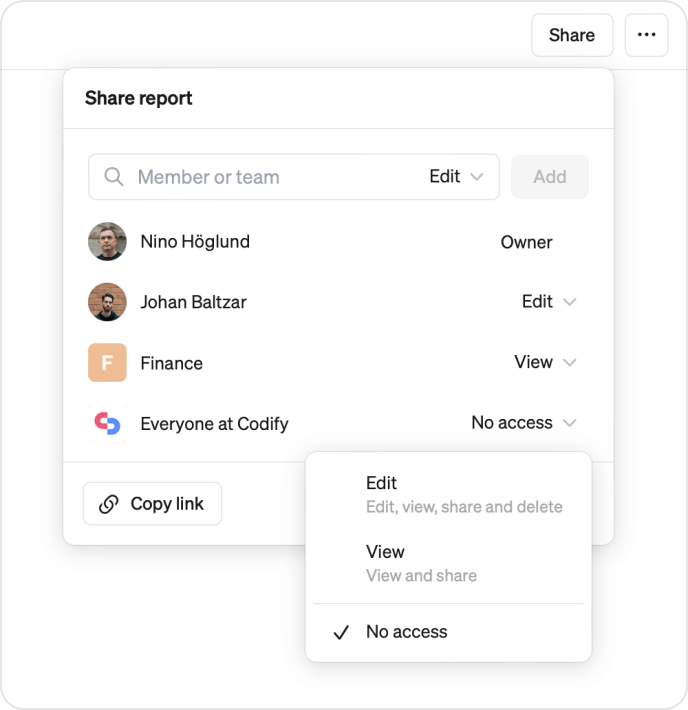 Collaborative editing
A group of members can collaborate on editing a report together. You can view the list of participants currently working on the report in the top right corner. Any updates made by your collaborators will be instantly reflected on your screen.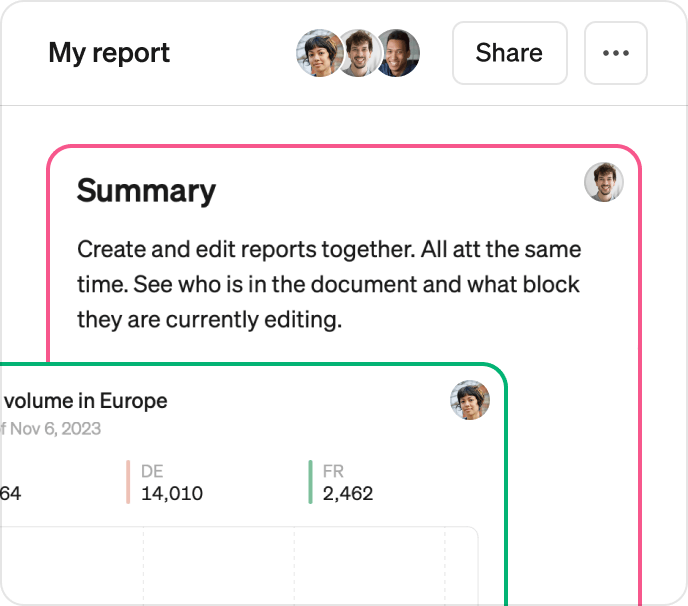 PDF export
Create beautiful PDFs of your reports with crisp vector graphics. Hit "…" in the top right of your report to create PDF
Delete report
Hit ⋯ in the top right of your report to delete a report.
Everyone with full access to a report can delete the report.